---
Posted on Oct. 11th, 2018, | By Judy, WayKen Project Manager
New products and services are the lifeblood of all businesses. Investing in their development is very important. But the development process is risky. It requires a lot of planning and organization. Making the most informed investment and budget decisions at key stages of product and service development processes will help you keep a schedule, resources, and costs under control. Engineering prototype services promote designs to real step by step but rapidly and effectively.
1. Industrial Design
Industrial Design (ID) refers to the design of industrial products based on engineering, aesthetics, and economics. All manufactured products are the result of the design process, but the nature of the process can take many forms: it can be done by individuals or teams; it can emphasize intuitive creativity or computational scientific decisions, and often emphasize both; May be affected by a variety of factors, such as materials, production processes, business strategies, and general social, commercial or aesthetic attitudes.
The role of industrial designers is to create and execute for shape, function, usability, physical ergonomics, marketing, brand development, sustainability and sales issues. Design solutions focus not only on the appearance and quality of the product, but also on the functionality, manufacturing, and ultimately the value and experience that the user provides. That is why real creation has to be under the help of engineering prototype services.
There are many different ways to make any single product, and having a variety of concepts to choose from ensures that your design suits you and your future customers. Product design is a well-designed process that always strives to strike a balance among form, function, and business goals. The industrial design process begins with a series of simple and fast thumbnail sketches to explore ideas and solutions. Designers can even develop up to 100 sketches, each with different ideas to convey.
Creating a series of ideas is not always easy – it's even harder to narrow down their scope. Use computer modeling software to turn your ideas into an interactive three-dimensional digital part. This 3D model continues to evolve as it evolves, enabling us to generate the data needed to build up a prototype and manufacture products. Appearance and functional reference through rapid prototyping or CAD models connect to the engineering prototype system. Finally, after careful review and improvement, the design is finally confirmed.
2. Engineering Design Process
Engineering is the application of mathematical and scientific principles to the design and construction of products. Start turning ideas into reality. Creating a new product design is one thing, but designing it and actually making it work is another matter. Engineering capabilities include product design, mechanical and manufacturing design, 3D complex surfaces, material selection, processing difficulty, and test fixture design and construction.
It also included finite element analysis, structural analysis, modal, thermal analysis, design optimization, DOE (experimental design), and design and manufacturing feasibility analysis. We believe that engineering is invaluable at every stage of product development and engineering prototype can be a major factor in product success if done properly.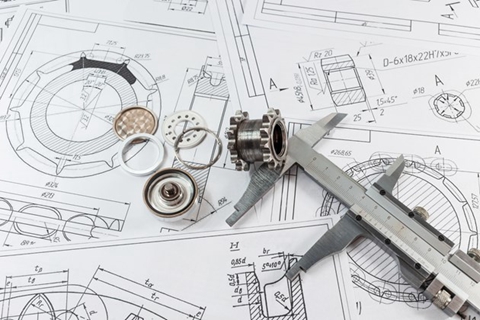 Most hardware requires mechanical engineering to make prototypes. At WayKen, our team has extensive experience in manufacturing mechanical products, and no matter how simple or challenging the designs are, our engineers perform professional according to strict standards. Our engineers align your design with manufacturing specifications (see DFM) and ensure that all mass-produced parts work, and are assembled on the production line.
Our team will design, implement, and test custom solutions for you. We will consider every detail while designing the product. The focuses are on functionality (Is the product working properly?), feasibility (Can the product be produced efficiently?) and cost (How expensive is the solution?), to ensure that your project runs reasonably and efficiently.
3. Prototyping Process
Prototyping is a phase of product development and one of the most important steps to ensure that your product is designed correctly. Design your concepts and 3D CAD into physical products that can be used for a variety of purposes, such as functional demonstrations. The prototyping process is helpful because it allows you to test product features, manufacturing methods, and user experience before full production.
By understanding market needs, improving products, and even developing products that meet and exceed customer expectations. So the feedback and information that customers collect from prototype testing is critical to implementing and launching a successful product.
The shape and function of the product are best evaluated in kind. How does it look and feel compared to 3D CAD? So you are ready and want to create a prototype to test your ideas? How to create a prototype? There are many different ways to choose, depending on the needs that the prototype must meet. We evaluate different criteria such as fidelity, speed, materials, structural integrity, and cost, to select a prototype method that satisfies the customer's needs.
When high levels of complex details are involved, for example, CNC machining, FDM (Fused Deposition Modeling), SLA (Stereolithography Apparatus), SLS (Selective Laser Sintering) are generally selected. Other prototyping methods include hand-made, such as lathe machining, milling, and thermoforming and manufacturing of silicone or polyurethane molds. Please be assured that no matter what process your prototype may be through, WayKen will find a way to do it.
4. Manufacturing Results
Manufacturing products is an important step in providing products to the market. After reaching a consensus with the customer, we will provide the customer with a manufacturing design (DFM). DFM is the process of designing a product for ease of manufacturing, with the ultimate goal of making a better product at a lower cost. For start-ups and large companies, optimizing manufacturing costs is very important. Some of the most important factors in manufacturing costs include – Manufacturing Method, Materials Choices, Assembly Process, Dimensional Tolerance, Labors, and so on.
Does WayKen Provide Quality Engineering Prototype Services?
Choosing a trusted and experienced partner is critical to the proper and efficient operation of the project. At WayKen, we provide quality engineering prototype services for inventors, entrepreneurs, start-ups, and large companies. Design and manufacture products to help customers turn their creative designs into reality.
We rely on the superior service of quality and the ability to identify problems and failures to win the trust of our customers. We also identify root causes and provide solutions through product design, material changes, and quality control. Our flexible development process gives you the opportunity to develop innovative products for any industry.