Last updated: Jan. 21th, 2022, | By WayKen Rapid Manufacturing
Manufacturing has undergone drastic changes in the last 10 years. Massive mass production plants are giving way to smaller facilities that have less capacity for large volumes but are capable of delivering small batches, customized parts, and prototypes in a short span of time. These facilities are called CNC machine shops and CNC prototyping shops. Let us look at why they can be more useful than conventional manufacturing plants.
What is a CNC Machine Shop?
A CNC machine shop is a place where CNC machines are used for subtractive manufacturing. It can be a room, a floor or even a building. If you need metal, plastic, and other parts for different machined components, this place can meet your needs.
Depending on the manufacturing capabilities, these shops concentrate on specific industries: automotive, aerospace, medical devices, and so on. Some shops have hired capable design and analysis engineers and can provide you with complete engineering design, verification, and production of your idea. 
Today's machine shops tend to be at the cutting edge of manufacturing technology. The market is highly competitive and the shop that can deliver high-quality CNC machined parts faster will survive. Let us look at what kind of equipment you can find there and how they can be useful for you.
What Can You Find in a CNC Machine Shop?
A fully functional CNC machine shop usually includes many pieces of CNC machining equipment with different sizes and purposes, as bellows:
Multi-Milling machine
A multi-milling machine is a machine tool that can conduct extensive machining operations. It usually doesn't have any Computer Numerical Control (CNC) system and is operated manual machining by a machinist. The main advantage of such a tool is that with a capable machinist, you can simply give him the drawing and he will start machining right away. It's a great option if you need a single simple metal part. You can get it within a couple of days.
Machine Center ( 3,4-5 and more axis CNC machine)
A Machine Center is a more complex version of the multi-purpose CNC milling machine. It is equipped with a Computer Numerical Control (CNC) system. You will need an engineering drawing of your machined part to get it manufactured. The advantage is that CNC machine centers allow for custom CNC machining to manufacture almost any desired shape you can imagine. They are quite fit for precision machining.
If you need to verify parts, you can duplicate the first prototype easily by simply loading the CNC program again and again. CNC machine centers can have 3, 4, or 5 working axes. The more axes a CNC machining center has the more complex part geometry it can make. Generally speaking, 5 axis CNC machining is more suitable for manufacturing complex parts.
But if your machined part is simple, it is better to go to a multi-milling machine. Because the machinist will need a while to prepare a good CNC program.
Lathe
A lathe is a kind of machine tool. The lathe rotates the part in contact with the cutting equipment to achieve machining. It is perfect for symmetric components and can work on them automatically. So it is also called the CNC lathe equipped with a CNC system.
Grinding machine
A grinding machine uses a high-quality grinding abrasive wheel made of small hard particles to shave off small layers of materials and form a very precise dimension with great or mirror-like surface finishes. Such operations are used for high-precision parts and it is recommended to use them only for tolerances IT 7 or higher. They are costly and take up time.
Drill press
A drill press is the basic manufacturing machine tool. It is used to drill holes in any kind of part. It serves as a good complement for multi-milling machines and manual lathes forming a perfect combination to make parts swiftly.
Bandsaw
Every CNC machine shop needs blank stocks. 90% of those are supplied in the form of long bars of different diameters. When an order is made, the bar is cut into single pieces and a part is machined from those. A bandsaw is used to cut those bars.
Micro Machining
Micromachining is a precision machining process on a microscopic level. It allows you to create microscopic finishes on a part and create custom surface finish patterns.
EDM Equipment
EDM refers to electrical discharge machining – a process that relies on electric currents to vaporize particles from the surface of the part. This method is perfect for hardened aerospace parts and dies cavities. A tremendous advantage of the process is that the cutting force is close to zero so the part cannot be deformed during its processing.
Surface Finishing Tools
When the parts are complete, you sometimes need to get additional properties. Such as mirror-like surface finishes, colors, glossiness, or smoothness. All of them require special treatment so a good CNC machine shop usually has at least a small set of painting equipment. Some CNC shop manufacturers also offer polishing and anodizing services.
Coordinate Measuring Machine
In order to check the tolerances of the part and evaluate its properties, control equipment is necessary. Coordinate measuring machines to ensure error-free operation of various orders and provide data reports on machined parts. They are precise and can measure virtually any dimension.
3D Scanner
A person moves the 3D scanner around the workpiece to capture its different parts and provide its 3D model. The process normally takes 3-4 minutes.
Vernier Caliper
Different dimensions have been measured by using vernier caliper such as inner dimensions, outer dimensions, and depth of the workpiece by using their different jaws.
Micrometers and Pin Gauges 
If the desired workpiece is needed to be high precision, then a micrometer is used for measuring depth, length, and thickness. Pin gauges are used to measure and inspect the diameter of small holes.
Others
In a CNC shop, the machines perform different production tasks, either manual machining by a CNC machinist or equipped with CNC technology.
In addition to machinery, the manufacturer usually stores raw materials that can be used for machining parts. However, for manufacturers with small size CNC shops, their raw material may be stored elsewhere, such as in a warehouse.
There is a specialized area containing computers equipped with CAD software where machinists can design CNC parts in digital ways.
How To Optimize Your CNC Machine Shop
As we know, once you've optimized your CNC machine shop and made it work in some way, you have limitless opportunities to improve and scale up your production. Here are some tips for optimizing.
1. Guarantee One-Stop Post Finishing
When you have an urgent project, it is wise to choose a machine shop that can offer one-stop services. It is because a complete CNC machine shop not only provides fully CNC machining services but also various post-processing options. In this way, you can get perfect prototypes or precise parts at one time without visiting different suppliers to reduce development cycles.
Following are the post finishing techniques:
Hand Finishing and Form fit function: A common aspect of hand finishing is adding inserts or functional assemblies. For example, when an item requires screws or bolts in the assembly process, adding metal threaded inserts can make the threads more durable.
Sanding and Polishing: In this process, the product defects such as burr, machine line, and adhesive mark from the surface of the part were removed by efficient hand sanding and polishing which may take hours.
Painting and Printing: Clean paint represents the quality of the product. Painting and printing are done in a strictly controlled environment which may be done by spray guns or airbrushes.
UV Coating: It is used to protect the material from scratches and ultraviolet radiation.
Laser Etching: Etching refers to the process of material removal and in a machine shop etching is done on a specific area for printing a brand name logo or custom message before moving to mass production.
2. Strengthen Quality Control and Inspection 
A good CNC machine shop usually can carry out a complete quality control inspection throughout the entire production process in order to produce high-quality prototypes and tight tolerances of CNC machined parts.
Quality control process
There are detailed inspection steps that are used for the quality control process of the product being produced by the CNC machine shop.
Inspection by machine operator: The operators usually perform various inspections on the parts while they are still on the machines or immediately after they are removed from the CNC machines.
Customer Communication: Effective customer communication is an essential element of delivering customer satisfaction.
Verification of Purchased Products: All purchased products are subjected to a visual inspection by the receiving quality control inspector.
Inspection via in-process Probing: Process Probing refers to the use of the automated probe to check the tolerances of the part in a part program.
Inspection in the Quality control department: After the parts come off the machine and leave the hands of the operators, the quality control department performs additional inspection steps based on the statistical process control system.
At WayKen, we give you 100% promise to carefully monitor each project from start to finish to meet all customers' exact specifications.
CNC Machinists Can Ensure High-Quality Machined Components
Another vital element that ensures the work of a CNC machine shop is its staff. If the machine tools are the heart of the shop, machinists are its brains.  A capable machinist can take a drawing and turn it into a part without any previous preparation. He can set up the machine tool and the cutting tool and do everything himself. A good CNC machinist will create complex programs for the CNC machining centers and provide the shop with complex and high-quality part orders.
A professional machinist and craftsman should have skills as follows:
Problem Solving Skills: CNC machinists should be highly professional and know how to fix any error, how to increase efficiency, and why machines are not at peak performance.
Technical knowledge: Machines controlled by computers will need operators who understand CAD/CAM technology.
Attentive: A little negligence can lead to a serious accident, so the machinist should have his full attention while working on the CNC machines.
Math Skills: For understanding complex instructions the CNC machinist should have good math skills, and make sure items are designed and built correctly.
Stamina: The machinist should have good stamina in order to perform under strict working conditions.
At WayKen's CNC machine shop, our team of CNC machinists carefully carries out every step of the machining process with state-of-the-art technology such as EDM, 5-Axis Machining and Micromachining, etc
3. Improve CNC Machine Shop's Safety
A CNC machine shop is dangerous working in place. They have to undergo special courses in machine shop safety and adhere to the current rules.
Care about workers: Don't let employees work around the clock like the 24 running machines. In most times, we work in a CNC machine shop should be like a family so that succeed in finishing the production task.
Dress code in specific situations: Everyone had better wear appropriate clothes when they carry out the production tasks in order to make sure of their safety. Sometimes, mask and glasses-wearing are also important, especially for the painting job.
Waste management: Any CNC shop should build the concept of eco-friendly manufacturing and be responsible for industrial waste products. In the long run, the action of environment protection and clean shop can leave a good impression for each customer, and get more profits.
Know the fire or other hazards control: Sometimes, there may be some flaming machining materials stored in the CNC machine shop. The worker must carefully handle them to prevent the fire hazard.
Updating machine tools: The right machine can produce precision machined parts quickly and efficiently. Therefore, CNC machine shops should allocate some proportions of money towards regular machine tools upgrading.
Keep machines' routine maintenance: The machine like the human being also requires routine regular maintenance to stay in top shape. Regular inspections of the equipment can improve its lifespan and largely reduce the risk of a breakdown or malfunction.
Learn to embrace the next opportunity of development: With the rapid development of cloud manufacturing and the IIoT, the CNC machine shops should make the most of the modern technology so that they can still keep competitive advantages in the future.
However, some production anomalies frequently happen, how to manage, or fix them in the right way? Here are five steps to manage production anomalies prototype shops for you.
Tips to Choose a Quality CNC Machine Shop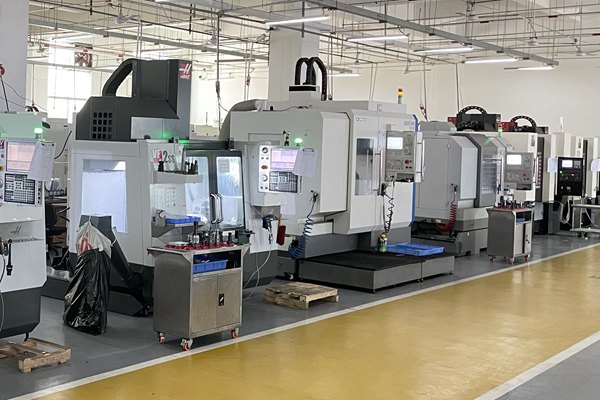 For product developers and business owners, there are many things needing to consider before beginning a working relationship with a CNC machine shop:
1. Look for long-term value and offer a competitive price
When you send your orders to a CNC machine shop, you also invest your time and money. Seeking a long-term, reliable machine shop may help you to resolve many unnecessary troubles. Also, the right manufacturing partners can save production costs. Of course, low prices are unrelated to quality work.
2. ISO Certified
Find an Iso-certified CNC machine shop that can make you clearly know whether your workpiece has been inspected for the standard equipment.
3. Keep customer privacy
Machine shops usually carry out manufacturing tasks for the customers while must sign a Non-Disclosure Agreement (NDA) so that the engineers' design won't be passed on to mysterious third parties.
4. Good communication and understanding the needs of customers
Good communication can build the manufacturing bridge between the customers and the machine shop. Understand the details of the design, get the manufacturability feedback and promote the development of the project in the end.
Conclusion
Are you still looking for a respected, trusted CNC machine shop? WayKen as a prototype manufacturer can provide advanced manufacturing and rapid prototyping solutions for global customers. Here is advanced our CNC machining center.
We promise to ship your prototype & parts anywhere in the world in seven days or less. Get a free quote now.