One of the most common workholding tools used to keep the workpiece in place is the machinist vise. However, you might not know it by the name machinist vise since it has other names like engineer's vise, fitter's vise, and metalworking bench vise. This tool is essential in most metal and wood working processes. While there are other milling vises, the machinist stands out as it functions efficiently using a wedge operation.
So, what is a machinist vise? What are the parts and operations of this holding device? How do I increase the workholding solution using the vise? Read on as we answer these questions and provide you with other great information about this workhoidng.
What is a Machinist Vise?
It is also called the engineer's vise, a machinist vise is a workholding with a metal body fixed on the top of a workbench for various purposes. It is a heavy-duty vise that ensures better accuracy and quality work output as it holds an object for the craftsman. It is attachable to the side of the bench for better grip on all kinds of working tools.
Typically, a machinist vise comes with a moveable jaw about 7-20cm wide, slightly smaller than the woodworkers' vise (17-25cm). These jaws help to hold object stationery and may have wood or plastic lines at the edge to avoid damage to the object.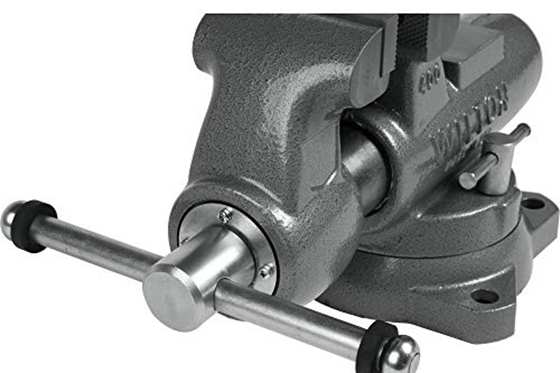 Machinist vises differ from other types in two ways: the mount and heavy metal build. It comes in a heavy metal build which helps it resist multiple strains and is usable in various ways. Secondly, it mounts on the worktable with bolts, unlike other vises.
Besides, if a machinist vise comes with a fixed base, it helps to enhance the stability when working. But a swivel base serves various purposes and may limit accuracy for some projects. The swivel base rotates in a circular motion and holds the object diagonally, not vertically.
Why A Machinist Vise Is Used?
What machinist do is hold workpieces for milling securely between its jaws so it remains immobile while the cutter spins through them. This is quite different from jigs and fixtures.
Engineers and craftsmen often use this milling vise for milling and other operations because of the cutter's outward pressure when it spins. To explain better, if the vise does not hold the workpiece firmly in place during such operations, the cutter's pressure would throw it off. Hence, it jeopardizes the safety of the user. This is why using a milling vise for the drill press is advantageous since it encourages hands-free milling.
Steel, wood, aluminum, and plastic are some materials a machinist vise can clamp down. Often used by engineers for creating dovetail joints on a milling machine, the machinist vise can undertake milling tasks like profiling and plunging. What's more, this workholding is easy to use as it does not require a lot of skill and experience to carry out operations on it.
What Makes a Good Machinist Vise?
Most machinist vises feature an iron-body design and finish, which makes them rugged and also helps them withstand force. More so, it has a wedge process that perfectly pulls the flexible jaws to the bed. Thus, the objects remain stationary and don't shake or experience deflection due to the tight jaws.
These tools come in various sizes with regard to the wideness of the jaw. The less wide ones may be at least 4-inches wide and could be as big as 10-inch wide. But in the industry, the most used are vises with a 6″ width, but the biggest CNC vises may reach 12 inches.
Are Swivel Bases the best? Swivel bases ease the part of setting jaws to the perfect angle, but most craftsmen opt for the fixed base.
Steps on How to Use a Machinist Vise
Here are the basic steps to help you set up the vise perfectly.
1. Ensure the Table is Clean
Always ensure that your table is clean and clear of wood shavings or other chips before setting it up. It is not advisable to mount the vise on a chip as it may tilt the balance and also try to trim the T-slot on the table if any. To trim involves sweeping the fixed jaw with an indicator to create a parallel arrangement between the vise and the axis.
2. Trim the Machinist Vise
As explained earlier, trimming is one of the basic skills needed to operate the milling vise efficiently. Below are some quick methods for trimming a machinist milling vise.
Fixture Plate Method
You can fix your vise with three dowel pins in a machine fixture plate by holding it firm on the pins and clamping it down.
Quick Method
First, install a pair of aluminum soft jaws, then stick a good endmill in the spindle before milling a step on the jaws. Do the sticking with a gripped object on the vise beneath the step and now cut since the step is perfectly in the tram. Fix the step into parts, and it's ready for work.
Edging Method
With a yard or meter-long straight edge, fix in the vise with the right edge facing up. Then, position the edge on a machine table with a T-slot against a straight object or the edge on the table.
Place the head to align the straight edge to enable you to view both ends without tilting your head. Align it so that only your eyes are moving, then set the vise to be in alignment with the table feature.
Factors for Choosing the Right Machinist Vise
These vises feature different sizes of jaws and may vary from heavy to light vises. So, how do you know which one to choose for CNC machining or any other operation? Read on as we provide factors to consider so you can make the right choice.
Size
You should know the size of the material that needs clamping before deciding on the size of the machinist vise. That way, you'll ensure that the width of the jaws matches the wideness of the workpiece. The reason is that a smaller jaw will be easier to set but will restrict you more when you have a bigger material or object.
Weight
You should also consider the weight of the machinist's vise before choosing one. Even though the weight matters little, as most milling machines have a table that can hold any mass of vise, try and confirm. Hence, ensure to check the product specifications to know the weight of each device.
How to Increase Workholding Solution Using Machinist Vise?
There is a lot of work to be done in work holding. But how to increase your workholding using a machinist vise? Well, here are a few ways to do this successfully.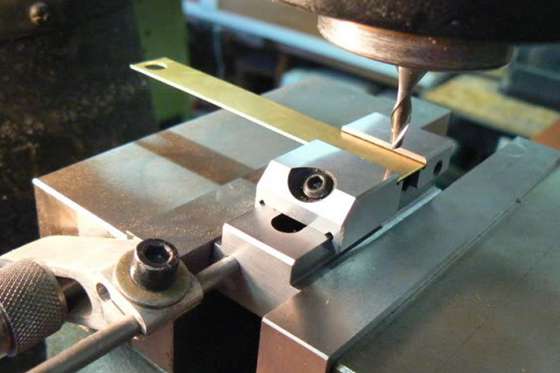 Using Multiple Vises and Jaws that Span Vises
Using multiple vises is one way to increase the work holding solution. Besides, this should not be a challenge since most machine tables are spacious enough to accommodate the installation of several vises.
Having multiple vises on a table improves convenience. This is especially true where the vises match key dimensions and are within an acceptable tolerance. It also means that even if you are duplicating an arrangement and decide to set up the vises in a different order, you will not encounter any challenges.
Also, pairing machinist vises is easy since all you need to do is use a surface grinder. However, it is seldom necessary since most manufacturers won't pair machinist vises for you.
Double Station Machinist Vise
Having made maximum use of the X-Axis by spreading multiple vises across the mill table, using a double station allows you to make maximum use of the Y-Axis. So how do you do this?
A double station vise ordinarily feels like 2 vises in one. This means you can put two workpieces in the machinist vise instead of one. This greatly increases the number of parts you can work on at the same time on your mill table.
Using Vises to Hold Other Workholding Solutions
The machinist vise and all its possible configurations, from multiple vises to double station vises, help make much work possible. But another way that helps improve workholding solutions is using the vise to clamp down other workholding gadgets. One way to achieve this is by dropping grinding vises or Toolmaker vises into a machinist vise. The aim here is to get the machining vise jaws working in a different direction.
Also, using vise pallets allows engineers to leave the vise on the machine in workspaces where the working condition is ideal for undertaking their jobs. Vise pallets are miniature plate fixtures that sit on the jaws of a milling vise.
Soft Jaws and Custom Hard Jaws
Soft jaws are one of the most popular forms of workholding solutions found on machinist vises. In this scenario, engineers create custom machinist vise jaws using aluminum. The term soft jaws originate from aluminum being soft compared to other metals. On the other hand, hard jaws with a more durable material are ideal when the craftsman is gunning for jaw durability.
Using Quick Change Jaws
The truth is this; custom jaws, combined with machinist vises, offer tremendous workholding solutions. However, changing vise jaws takes time, prompting engineers and craftsmen to develop quick change jaws.
Most shops spend time making custom jaws. However, these jaws are often boxed-up and stored just in case an old, or new customer makes an order or a jaw need arises. When changing jaws using quick change jaws, using socket head cap screws and air ratchet could speed up the process considerably.
Machinist Vise vs CNC Vise: Are They The Same?
Compared to CNC Vise jaws, machinist vises have robust jaws built to hold a very large workpiece, just like the drill press vise. The jaws have protective pads that protect softer materials and workpieces like plastic and wood from damage during milling operations. Most milling vise models come with a swivel base that offers a circular motion movement.
The CNC vise is not the same as the machinist vise. However, it offers a similar function to the machinist vise. The CNC vise has a more portable design, making it easier to use multiple vises on a mill table. Also, clamping them both sideways and horizontal is easier due to their multi-side precision ground.
The only challenge with CNC vise is the lack of flange, which makes securing them to the mill table tad difficult. But with the special table clamps, this challenge becomes trivial. Want to learn more about CNC machining? Luckily we have a detailed post on CNC machining basics.
Machinist Vise Maintenance and Care
Maintenance is key if you want your machinist vise to keep operating optimally. To ensure efficient performance, you need to perform some maintenance tasks regularly.Wiping the moving its parts with a clean cloth after each use is one way to keep it working optimally. You must also wipe the dirt, debris, and grit threads that could affect its grip.
Whether you are using the machinist, CNC vise, or any vise type, ensure you lubricate the vise joints, moving parts, and threads. This would facilitate seamless movement of the machinist or CNC vise jaws.
Other ways to maintain is by removing rust and repainting it over time by coating or applying rust-resistant paint. If there are also any worn-out parts, you should replace them. Also, place the handle upright and bring the jaws together when not in use. What's more, if your workspace is outside, ensure to cover the workholding with a cloth to protect It from weather that could make it rust.
WayKen Offers Vise Holding Solutions for Your Machined Parts
With the complications attached to CNC, machinist vises, and milling of the machined parts, it is often best to seek the services of professionals like WayKen. We offer vise holding solutions for machined parts and more to our numerous customers.
According to your machining needs, we offer customized parts machining solutions with strict standards. At WayKen, you can get to save time, as we have top-quality professionals ready to work on your orders. What's more, you can effectively avoid the risk of machining challenges and get high-quality and cost-effective parts
In addition to providing workholding solutions, WayKen can undertake all your machining needs, such as CNC machining services, 3D printing, rapid injection molding, parts finishing, etc. From design to production, we ensure your products go above and beyond your expectations using our skilled internal workforce and cutting-edge equipment.
Despite the fact that other milling vises work, the machinist vise is unique because it uses a wedge operation to perform effectively. While it grips tight, it does not damage the object due to the protective lines on the jaws. This device comes in handy during various manufacturing processes to hold objects in place.
What is the difference between a machinist vise vs machine vise?
There are differences between them. A machinist vise has a manual operation while a machine vise is more automated since it mounts on a machine. Furthermore, a milling machine vise is best for use in an industrial setting, while a machinist vise is perfect for use in a private workshop.
How do I know my vise size?
The length of the screw holding the jaws together determines the size of the vise. The shorter the screw, the smaller the opening distance between the stationary and sliding jaw. It is always important to remember this workholding would not efficiently hold down objects wider than their maximum opening capacity.
Do I need a swivel base for machinist vise?
If you will be making angle cuts more often, then swivel base can come in handy. But with swivel base you have to verfiy the vise is square to the workbench.