---
Posted on July. 27th, 2020, | By WayKen Rapid Manufacturing
Clients often believe, backed by a popular fact, that metal parts cost more as compared to equivalent parts made from plastics. So usually when the customers come to us at WayKen, as metal prototyping experts, the first typical question that surfaces our business discussion is,
"Does it really have to be metal?"
And we, as a veteran CNC metal prototyping service expert from China with a global clientele, ensure that the additional cost of metal is desired. We identify our clients' intent for prototyping, utility, budgeting, and other industrial application. Our prototyping experts and CNC machinists align these with the specific industry needs.
For example, the aerospace industry needs metal parts but has to have lightweight while the structural industry needs metal parts that are durable and can withstand heavy loads.
Contact WayKen to discover whether CNC machining is the best prototyping services for your projet.
Quick Fact Check of Prototyping Methods
Several other prototyping applications, other than CNC machining services, have gained traction in recent years. These new-found techniques certainly offer novel and suitable alternatives to metal prototypes. Metal coated stereolithography is one such popular method.
But for you, as a seeker of metal prototyping services, should thoroughly understand the need for a particular method to be the best judge for your business. However, CNC machining remains the top-most choice for metal prototyping.
If you are choosing WayKen as your technology partner for metal prototyping services, you get access to our state-of-art technology CNC machine shops.
Check out some quick FAQs for your partnership with WayKen for metal prototyping services and explore 'why it is such a good idea' with us.
What do You Need to Tell Us?
Ideally, we ask our clients to provide a drawing with detailed GD&Ts along with all Product Manufacturing Information [PMI] callouts. This will lead us to offer you a quote that emerges from a selection of the most appropriate manufacturing technique and calculation of costs.
But the production of metal prototypes is a big task involving several parties to it. Getting all on the same page is quite a challenge and maybe that is you need an expert manufacturer. Let's look at metal prototypes from all the perspectives and Point of View [POVs] of various stakeholders.
Production POV
CNC machining centers, 3 axes, or 5 axes, have remained the obvious starting point for years given the accuracy, precision, and the ability to carry out multi-operations simultaneously. However, at our facility, we also take into consideration the quantities of prototypes to be manufactured, timelines you have, and pricing.
Manufacturing Process POV
We have come across a series of customers who walk in with a preconceived notion that CNC machining services for metal prototyping are limited by the cutter size. But to their despair, our CNC prototype machining services prove this idea to be just another myth. With our CNC machines for metal, we offer the widest range of materials to be machined from soft like zinc and aluminum to hard such as stainless steel or steel as well as plastics.
Having gained experience over the years, WayKen's machining experts can push our giant machines to their limits for incredible machining results.
Accounting for the Time and Cost
Bottom line is that time and cost go hand in hand. Time decides the manufacturing process, the route to the final finished product, delivery, and much more. Alongside, the economic budgeting and cost allocation for your projects too are closely associated with your preparedness for the time dedication.
However, with CNC metal machining and prototyping, you achieve the biggest advantage. You essentially can bank on a drip-feed of the parts as opposed to any other alternative that needs the production of the tools before you can kick start real production. This gives you a great buffer zone as far as timelines are concerned.
Choosing the Correct Material and Doing It Right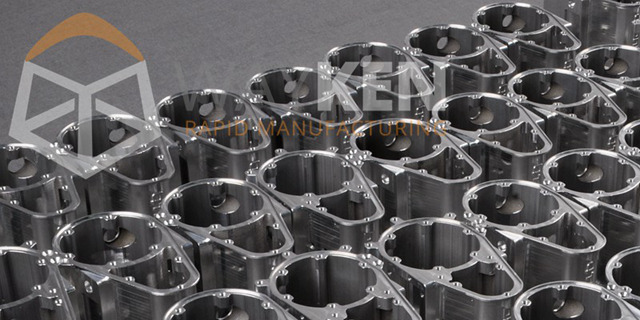 As stated earlier, WayKen's production engineers having experience spanning over the decades can do your material selection the right way. Choosing material again has very close ties with the application of the part you intend to produce.
Across the manufacturing industry, metal prototypes usually mean parts made from aluminum, steel, cast iron, zinc, or stainless steel. Under ideal conditions and situations, material selection and the properties of the material will also steer your choice of the manufacturing process.
For instance, when you need a particular grain structure and flow you cannot achieve that from a CNC machining service for a billet as obtained through casting. But the allowances you have to count for are relatively smaller with the CNC machining.
At WayKen, we offer CNC metal prototyping for metals ranging from aluminum to steel, copper, and brass. Our CNC beasts can handle any complex part with tact.
Because Geometry Matters for Producing CNC Metal Prototypes
Oftentimes, we come across clients raising requests for creating prototypes with thin walls, relatively sharp edges, specific geometrical dimensioning, part sizes, multi-component assemblies, forms and surface finishes and so much more. But what they forget is that these aspects have painstaking impacts on the selection of the manufacturing process.
Based on these factors, and taking a 360 degrees approach on time and cost consideration, production at Wayken's CNC shops breaks the ground. Once your designer and our manufacturing engineer have reached on a consensus it lies in our onus to accommodate all your design attributes, fixtures, and parts as agreed.
Final Words: Join hands with us for metal prototyping
From primary machining operations for your prototypes to secondary operations such as anodizing, painting, powder coating, heat treatment, sandblasting and polishing, WayKen's CNC machine shop can meet your needs.
Send us your project details and our manufacturing business representatives will take you through a series of interactive questions. We will assist you to get through your project successfully!