Posted on May. 5th, 2020, | By Arion, Project Manager
The need of the market is changing at any time. In order to better adapt to this fast-changing, manufacturing technology is constantly updated and upgraded. To maintain a competitive edge, manufacturers need to keep up with the pace or face the risk of being eliminated in the process of industrial upgrading. Although the process of technology upgrading can be definitely painful, it is critical for enterprises' long-term development. This article will be with you to learn about Micro-Milling technology.
An Understanding Overview of Micro Milling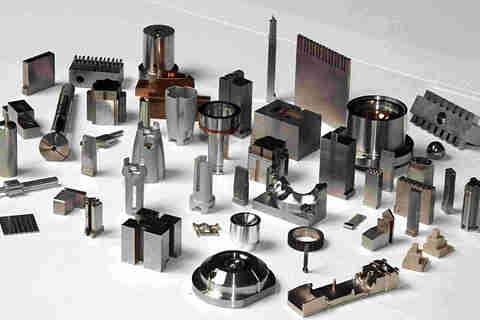 Micro-milling is a machining method for mechanical parts. It not only obeys the general law of machining but also has its own particularity. At present, micro-milling technology is not very mature compared with traditional and conventional cutting technology. For the micro-milling aspect, it has developed rapidly. 2D and 2.5D simple features of parts even 3D curved surfaces of complex parts can be well processed in CNC machining centers. Micro-cutting technology is widely used in the processing of fine products with good adaptability and high productivity. At present, micro-machining technology can achieve high machining precision and fine size, has become an extremely important solution in the field of machining.
Micro Milling Guides
Micro-Milling Machine Requirements
Since multiple elements are working in series coordinately, a machine performs would only perform as well as its weakest single component does. Micro-milling has high tolerance requested than traditional milling, for which each machine component should match the unique tasks.
Machine Geometry
The geometry of a machine is one of the most important factors for its overall performance. The geometry would finally determine the stiffness, precision, thermal stability, damping characteristics, workload as well as ease of operator use. At present, there are two most popular types of vertical machine geometry, bridge frame, and the C frame. Each of them has its own advantages and disadvantages.
For most of the cases, the c-frame would have an optimal stiffness for micromachining since that the stiffness would determine the precision directly. For c-frame design, the main axis or the z-axis is the only axis of motion. As a result, it would be lighter while having better dynamic stiffness.
As for the bridge structure, its X-axis and Z-axis are suspended above the X-axis platform. Hence the bridge carries more weight but provides less dynamic stiffness for micro-milling. The Bridge frame is more suitable for high-speed processing of medium to large parts that typically require a maximum Z stroke.
It is worth noticing that vibration is a more destructive processing property of milling small and delicate parts. For example, stiffness and damping are the key factors that should be controlled in micro-milling. Machine tools with increased damping will reduce and absorb more of the vibration caused by cutting. Many machine frames are made of iron or steel welds.
Drive and Motion 
Nowadays, there are many types of drive and motion technology around the world. And balls crew technology is one typical type for most of the machine tools. The combination of ball screw and servomotor technology is still a good solution for micro-milling today.
Multi-Axis
Nowadays, multi-axis machining drives the continuous growth of micro-milling applications. The typical case is the utilization of 5-axis CNC machining for miniature impellers. 5-axis machines can operate small tools with tilt options while giving up the need for multiple tools to get better surface quality. When it comes to the application of conventional 5-axis applications Vs. micro-milling, micro-milling has a higher demand for flexibility in controlling the tool orientation and can track the stock model across multiple dimensions.
The Application of Micro Milling
Micro machinery, such as microsatellites, aircraft, machine tools, turbo generators, vehicles, guns, and so on, have a large market in national defense, aviation, aerospace. Cameras, mobile phones, etc., are getting smaller and smaller, but the function is constantly improved. And metrology, biomedicine, electronic products and computers, instrument science and other fields are also developing towards miniaturization, micro medical robots, micro-computers, micro-precision instruments are direct applications of micro-processing. Therefore, micro-milling technology would have obvious broad prospects and play significant roles in boosting product development and production.
How Wayken Support You Towards Successful Micro-Milling
At Wayken, our machine shop is equipped with 3-axis, 4-axis, or even 5-axis CNC milling machines that can not only guarantee your success at micro-part manufacturing but also CNC aluminum machining. Meanwhile, we combine 5-axis micro-milling with the latest diamond machining technology that results in various high quality and excellent optical lenses and light guides. Want to know more, you can contact us via info@waykenrm.com.