---
Posted on: Aug 21, 2018, | By Brian, WayKen Project Manager
1.Overview of China's CNC Machine Tool Industry Status Quo
1) The rapid development of the industry
China's CNC machine tools have made great strides in some key technologies both in terms of product variety, technical level, quality and output. In 2010, China's CNC machine tool production reached 236,000 units, up 62.2% from the previous year. There were 1,500 CNC machine tools available in the market in China, covering nearly all types of metal cutting machine tools and major forging machines. In 2014, China's CNC machine tool production reached 391,000 units.
2) Overseas companies favor the Chinese market
As China's CNC machine tool industry's overall strength continues to improve, more and more large overseas companies choose to stay in the Chinese market.
In the past five years, the annual CAGR of CNC machine tool production in China has been 37.39%, with an average annual CAGR of 29.94% over the past 10 years and a CAGR of 22.10% over the past 15 years. Driven by the national rejuvenation of equipment manufacturing industry and international industrial transfer, the growth rate of China's investment in the purchase of equipment and tools will maintain at a level of about 20% in the next 5-10 years, and the demand in the machine tool industry will maintain its rapid growth. Driven by demand, the output of China's CNC machine tools maintained a rapid growth. With the deepening of economic restructuring, CNC machine tools and CNC system industries will continue to grow rapidly.
2.Talking about the advantages and disadvantages and importance of doing hand boards
Advantages and disadvantages
The advantages of the RP prototype are mainly manifested in its rapidity, but it is mainly formed by a stacking technique. Therefore, the RP prototype is generally relatively rough and has certain requirements for the wall thickness of the product. For example, the wall thickness is too thin to be produced.
The advantage of the CNC Prototype is that it can accurately reflect the information expressed on the drawings, and the surface quality of the CNC Prototype is high, especially after it finishes spraying and silk screen printing, even more brilliant than the products produced after opening the mold. Therefore, the development of CNC Prototype is becoming the mainstream Prototype Prototype manufacturing industry, according to the material used for production, can be divided into plastic Prototype and metal Prototype:
(1) Plastic Prototype manufacturing: Its raw materials are plastic, mainly the palm of some plastic products, such as televisions, monitors, telephones and so on.
(2) Metal Prototype manufacturing: Its raw materials are aluminum-magnesium alloys and other metal materials, which are mainly high-end products such as notebook computers, advanced stand-alone players, MP3 players, CD players, and so on.
Necessity of doing hand boards
(1) Inspection design
The Prototype is not only visible but also touchable. He can intuitively reflect the designer's creativity in the form of physical objects, avoiding the drawbacks of "painting out good-looking and making it unsightly". Therefore, the production of Prototype is indispensable in the development of new products and the scrutiny of product appearance.
(2) Inspection structure design
Because the prototype is assembly, it can intuitively reflect the structure
(3) Avoid the risk of directly opening the mold
Since the cost of mold manufacturing is generally high, the relatively large mold value is hundreds of thousands or even millions. If the structure is unreasonable or other problems are found during the mold opening process, the loss can be imagined. Shouban production can avoid this loss and reduce the risk of mold opening.
(4) Make the product time ahead of time
Due to the advancement of the production of the hand-made board, you can use the hand-made board as the product promotion before the mold is developed, and even the pre-sales, production preparation work, and early occupation of the city.
Where are the advantages of Wayken?
WAYKEN's expertise
Production capacity: Wayken CNC machine tools with advanced machine tools, tools and software, equipped with more than 10 high-precision and high efficiency CNC machining centers. Our employees have many years of experience and knowledge, and have deep skills in our area of expertise. The knowledge we acquire will be used to examine your project. We always recommend alternative manufacturing solutions that save you time and money to produce the best products.
Speed: At WayKen, we are fully aware of the importance of upcoming delivery. Our goal is to provide customers the fastest quotes and standardized production processes. WayKen Technical Sales and Project Managers respond quickly and promptly to production and projects and respond promptly to any design changes in a timely manner.
After Completion: Mail Completion is a standard part of WayKen's offer. We will not leave you an unfinished part, wasting your time on your secondary actions. We provide manual polishing, steam polishing, sand blasting, brushing, electroplating, electroplating, chrome plating, painting and printing. WayKen will provide you with one-stop CNC prototype parts.
Quality: The accuracy and quality of your products are our goals. Through our management experience, machine programming skills and operations, material selection and testing, we show you our best work. Our CNC technicians strive to ensure the highest accuracy and quality of components, whether large or small, complex or simple. Whether you are doing CNC work to create master models, rugged prototypes, or limited production efforts, WayKen's team of experts are here to help you get the job done.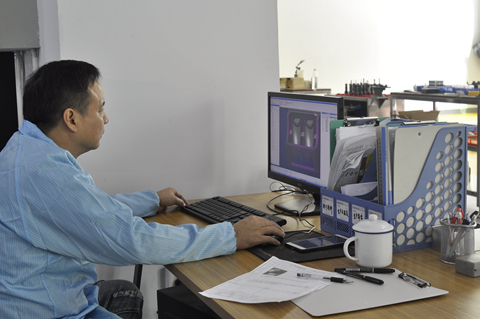 This is not all about Wayken:
We have developed an efficient, accurate and cost-effective process to deliver better product results. Each of our projects is reviewed by our design and programming team to not only evaluate costs, manufacturability and complexity quickly and accurately, but also ensure that we meet all of your program's specifications. We analyze your design and adapt it to any special needs such as welding, wire EDM or sinking EDM process.
This in-depth verification ensures you get the most efficient processing in terms of budget, time and material. High-precision CNC aluminum machining requires milling to achieve high tolerances, which is milling aluminum as mentioned above. Upon request, we also provide secondary processing and machining of aluminum profiles such as heat treatment, sandblasting, polishing, anodizing, oxidation, powder coatings and paints.
Compared to other Chinese metalworking plants, Wayken not only focuses on metal processing, but also provides advanced rapid prototyping, clear optical prototypes; rapid prototyping SLA & SLS; polyurethane vacuum casting; rapid injection molding services in a wide range of industries. With focusing on visual design models, full-featured engineering prototypes and custom parts for low volume production, we ensure that the final product looks and functions as expected.