---
Posted on: May 6th, 2019, | By Candy, WayKen Marketing Manager
Rapid prototyping is becoming more widespread as it proves its efficiency on a global scale. This term has appeared recently and was mostly associated with 3D printing but once the designers and product developers got the hang of it, the demand for rapid technologies has grown drastically. That's why a lot of other plastic and metal prototype fabrication techniques are being developed to be called rapid. One of these is the sheet metal prototyping technique. Let's see how cold sheet metal forming can be developed into a rapid prototype manufacturing method.
What Is Sheet Metal Fabrication Really?
Sheet metal forming is an important tool in manufacturing thin-walled structures from metals with good plasticity. The main advantage of the sheet metal fabrication process compared to other "pressure" processing operations is the fact that you don't need to heat up the blank the way it's done in stamping. Thin metal sheets can be bent while being cold. This results in a fast economic and sustainable manufacturing process. A lot of modern structures are made of sheet metals. Take the car, for example. Its body is completely made out of sheet metals. This makes the weight of the cars considerably smaller.
From Sheet Metal Forming to Rapid Prototyping
In order to understand what modifications are required to transform the conventional sheet metal manufacturing process into a rapid prototyping sheet metal technique, it is necessary to analyze where the most time-сonsuming actions occur. The main components of sheet metal forming include the following. A hydraulic(or powered by another drive) press to apply pressure. A die that is fixed on the plate of the press and has the aviary corresponding to the desired form of the final part. A punch, it is the part that presses on the sheet of metal and indents it into the die. The punch usually has a convex surface that Mimi is the concave surface of the die. There are a thousand other specific tools associated with sheet metal manufacturing but those are used to support the process rather than carry it out. We are going to focus on the most crucial elements of the system.
Where Sheet Metal Prototyping Can Be Improved
So, how can we improve the process to transform it into a quick turn sheet metal prototyping technique? For starters, the weakest link must be determined. In sheet metal forming, manufacturing custom dies and punches time determines the overall turnaround time of the sheet metal prototype. The dies and punches are usually made from heat-treated instrumental steel that is very hard to process. The most efficient way to shorten the lead-time of prototype sheet metal parts is to decrease the production of dies and punches. That can be realized in a number of ways.
Product lifecycle management. Manufacturing tooling is a product as well and PLM is an information product support system that drastically shortens the time for R&D stages, product design verification, resource management and planning, and NC program design. PLM integrates all the separate stages of product life and coordinates the manufacturing of the tooling.
Using simpler materials. Rapid prototype sheet metal manufacturing does not require the tooling to be very durable.  The majority of product developers need only a few sample sheet metal prototypes for tests so the die material can be much softer. For example, some aluminum alloys can be used. The dies made of such alloys are viable for a limited batch but the size of that batch may be just enough for the durability of the die. On the other hand, a softer material means a significantly shorter lead-time of the die.
Using modern CNC and CAM systems. A lot of dies have complex cavities or a lot of features. Manual machining will take too much time or will be downright impossible. That is why CAM systems are employed. They enable the manufacturers to create NC programs for any kind of die cavity.
Using interchangeable dies. Dies typically consist of the base elements used to fix them to the press and the cavity that is used to form the part. In order to save the amount of machining, it is possible to create the cavity separately. That way, the die will consist of two parts and its precision will be smaller but the prototypes typically do not require the perfect precision.
Avoiding automation. Modern mass production sheet metal fabrication processes are highly automated and it is beneficial in the long run. However, automation takes time to set up and verify and it only meddles with the prototyping. That is why it is actually good to avoid extensive automation in such complex areas as part loading, part unloading, sorting the blanks, transporting parts from one machine tool to the other and so on.
Metal Prototyping Services As A Shortcut To Rapid Sheet Metal Prototyping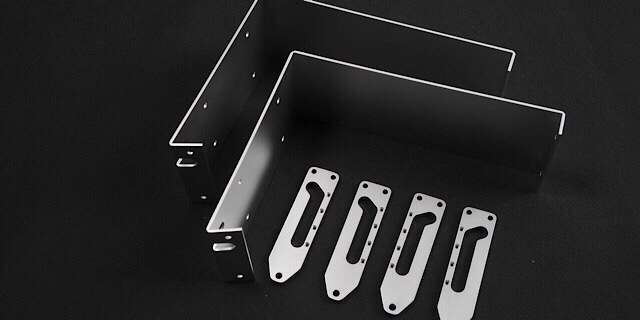 Sheet metal prototype fabrication is by no means an easy task. If you are just starting out, it may be hard to master conventional forming to optimize the cost of sheet metal. In order to actually move on to the more advanced sheet metal prototyping, you will have to spend a lot of effort and money. But there is a shortcut.
If you are not sure you actually want to get into the quick turn sheet metal parts industry, for example, you are a developer or a designer and you just want to create your product and move it into the market faster without diving deep into all the steel, titanium or aluminum metal fabrication processes, metal prototyping services can be a good solution for you.
Sheet forming service companies have the advantage of purchasing cheap metal sheets at the stock price because they always need a lot and the sheet manufacturers give them a discount. They have the latest equipment and the most experience since they earn money from manufacturing sheet metal parts. You will only need to provide a 3D model or the design drawing and they can give you advice on how best to fix it for manufacturing and will create a prototype batch for you in no time.
Rapid Sheet Metal Prototyping at Wayken
At WayKen,  we provide high-quality rapid prototyping services including precision CNC prototyping, CNC milling, sheet metal stamping, SLA & SLS, Vacuum casting, surface finishing, rapid tooling, etc for automotive parts, sheet metal parts, electrical appliances parts, home appliances parts, medical device parts, toy products, etc