We always focus on prototyping clear parts, and have the expertise in precision machining and rapid tooling required for custom optical prototypes.
Advancing Excellence in Prototyping Clear Parts
Choosing the right prototyping services for required optical clarity.
Many prototyping applications benefit from the use of clear plastic parts to achieve optical functions, view the inside of products, or improve aesthetics. Clear prototypes and optical prototypes machining are mainly referring to the machining of transparent acrylic (PMMA) and polycarbonate (PC), and most applications choose them to get a mirror-clear effect. For example, automotive lighting lamp lens, light guides, or product external components, displays, etc.
WayKen provides a range of solutions for custom clear parts and optical components to meet your functional needs, including CNC machining, vacuum casting, and injection molding. We have the expertise required to machine clear plastics without blemishes. We also have highly skilled polishing techniques to achieve optical clarity on plastic parts. Our approach to excellence allows us to fully support optical prototype development projects.
Optical Prototypes With Precision CNC Machining
Machining Acrylic & Hand Polishing
Acrylic (PMMA) is the most popular CNC machined clear plastic material, and the best surface finish can be achieved through precision machining. Acrylic polishing can help present the best clarity and light transmittance. As a professional prototype manufacturer, We pride ourselves on advanced excellence in creating acrylic prototypes of optical components.
Machining Polycarbonate & Vapor Polishing
Polycarbonate (PC) is also one of the most commonly used transparent plastic for CNC machining. Its transparency is second only to acrylic, but its strength is much stronger than acrylic. Vapor polishing can be used for the post finishing of machined PC parts, which can improve the internal and external surface finish and clarity of the parts.
Our Advantages in CNC Machining of Optical Prototypes
Small Quantity Clear Prototypes With Urethane Casting
Urethane vacuum casting is a fast, economical way for creating transparent plastic prototypes in small quantities. WayKen has extensive experience in this field and can produce optically clear parts.
The acrylic master is CNC machined and highly polished to get an impeccable surface finish.
Precision machined masters to achieve the best optical pattern details.
Apply the correct casting process, and use appropriate silicone and polyurethane materials.
Choosing the right release agent and applying it effectively to avoid tackiness and surface defects.
The overmolding process to achieve a single urethane part with a two-color or two-component.
Clear casting normally 12-15 copies, up to 20 copies per mold. (depending on the mold's complexity)
More than 20 clear parts can be produced in 2 weeks or less, depending on the structure and volume of the parts.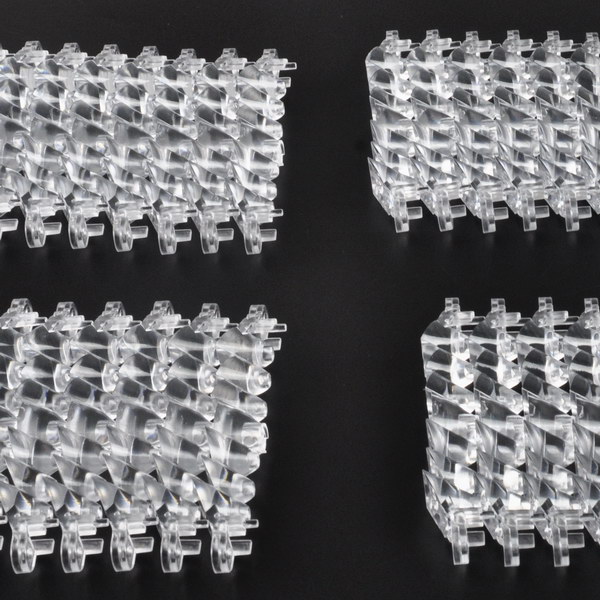 Injection Molded Clear Parts For Low Volume Production
Rapid injection molding for clear plastic allows use of expected production materials and final production technology. Class A surface finishes can be achieved for create injection molded optical components and clear parts from materials like PMMA and PC.
Need as few as 100 or more than 10,000 clear plastic parts to test low volume production runs? We have knowledge and experience creating rapid aluminum tooling, which means lower tooling costs and faster production changeovers.
Applications for Prototyping Clear Parts
Clear Optical Prototyping for Automotive Lighting
Provide continuous support for innovative lighting systems.
WayKen is focusing on automotive lighting prototype as a complete service which has allowed us to expand our knowledge and experience in this area. From mechanical component design reviews and optical development engineering test to show car projects, we are able to support at all levels.
Clear Prototypes - Auto Lamp Lens
Machining experience of thin-walled clear plastic
Unparalleled hand finishing and polishing technology
Advanced two-color and multi-material (2K) molding process
Optical Prototypes - Light Pipes & Light Guides
Combine 5-axis precision milling with diamond machining technology
More complex geometric shapes and precise optical details can be achieved
Minimum machining radius R0.1mm and surface tolerance ±0.02mm
Learn more about the capabilities of automotive lighting prototyping, please visit our sub website.