Custom milled parts of plastic and metal materials. From prototypes to low volume production parts, make orders from 1 to 10,000 units.
Our CNC Milling Capabilities
WayKen offer custom CNC milling services for a wide variety of plastics and metals. With our 3, 4, 5 axis CNC machining center, we can produce a variety of simple and complex CNC milled parts. Whether you need prototypes or production parts, we can handle it. We also have a variety of surface finish options so that your CNC machined part is exactly what you need it to be.
3-axis, 4-axis, 5-axis for CNC Milling
WayKen is equipped with 3-axis, 4-axis, and 5-axis CNC milling capabilities. 3-axis and 4-axis CNC machines operate on the X, Y, and Z axes, which are the most commonly used CNC milling process. They are often applied to produce parts with relatively simple geometry. 
5-axis CNC machines are the high standard and advanced type of CNC mill, which represents the manufacturing capabilities of CNC milling services. With this mill, we can machine 5 sides of a workpiece with one machine without multiple setups. Compared with 3-axis CNC milling, it is significantly more efficient and can be created geometrically complex parts with high accuracy.
Why Choose WayKen's CNC Milling Services
WayKen can offer cost-effective milling solutions whether you need a single part, a small batch of prototypes, or mass production. With our experienced team of engineers, we will deliver high-quality CNC milled parts for your project.
Comprehensive Milling Capabilities
We are equipped with high-quality milling tools to produce custom machined parts. With our 3-axis, 4-axis, and 5-axis milling machines, we offer CNC milling parts for different industries.
Experienced Team
Our experienced team of engineers has accumulated years of experience in creating custom parts with CNC milling.
ISO 9001 Certification
WayKen has a well-equipped quality assurance department and a quality management system. Our professionally trained QC and QA teams monitor all the CNC machining processes to ensure that your projects meet strict quality specifications.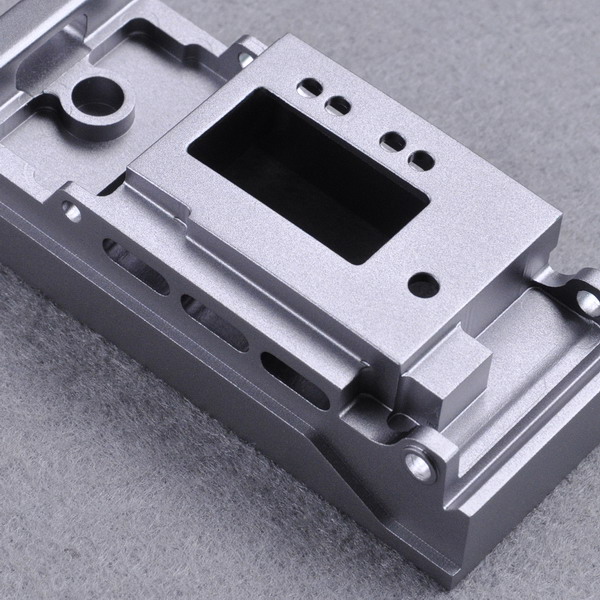 Faster Delivery
With CNC milling services, the CNC parts can be produced within a few hours. Once you contact us, we will get you a quote within 24 hours and kick off the project within your timeline.
Custom Finishes
WayKen provides surface finishing services for your CNC machining project. We deliver high-quality parts with the smooth finishes of your choice.
High Dimensional Tolerances
We can create parts using CNC milling with high tolerances. You can trust us with parts made from different materials.
See What Our Customers Say
I received the parts to and I am very impressed with the quality, you made the specifications perfectly, they are better quality that the ones I have made myself.
I just unpacked and visually inspected the parts.They are all accounted for and look great! Thank you for you help. I'll keep you inform as I assemble the unit.
We have now received the shipment, many thanks for the quick dispatch. Just to let you know that everything is ok, the parts look very nice. I'll let you know when we have a need for more components.
There is a wide variety of CNC machined materials available for milling The most common materials are metals and plastics, but other materials such as composites can also be machined.
Plastic materials are often used in CNC milling because they are easy to machine and have a wide range of properties that make them ideal for many applications. It includes ABS, acrylic, PC, PVC, Nylon, POM, PE, Teflon, etc. 
Metal materials are widely used in CNC milling for their durability and strength. Common metals widely used in the milling process include aluminum, stainless steel, and brass. Other materials that can be used for milling are copper, bronze, magnesium, titanium, zinc, etc. 
CNC Milling Tolerances & Standards
Tolerances and standard finish can be used in order to help ensure quality and consistency in the milling process. By following these principles, we can avoid many potential issues that could lead to costly mistakes or product defects.
Machining tolerances: When machining a part, the tolerance is the allowable deviation from the desired dimension. The tolerance must be taken into account when setting up the machine and when producing the CNC milled part.
At WayKen, we follow the ISO 2768 standards for both machined plastic and metal parts. This ensures that our products meet the highest quality standards. Typically, we can hold a CNC machining tolerance from ±0.005″ (±0.125mm) to ±0.002″ (±0.05mm) or even tight tolerance of ±0.01mm.
Surface finish standards: The surface finish of CNC machined parts are important to consider. This is because it can affect the function of the part, as well as its aesthetics.
We offer the following surface finish standards. The typically machined surface roughness is Ra 3.2-1.6 μm; The smooth machined surface roughness is Ra 1.6-0.8 μm; The super-finished surface roughness is Ra 0.8-0.2 μm.
Get CNC Milling Quotes
In Just 4 Steps
The first step is to simply fill in your information and upload your CAD file. 
Within 12 hours, we will provide you with a quote and design for manufacturability feedback. 
Once you have approved the quote and design, we will start production on your CNC milled parts.
Milled parts or products will be produced within a few days. We ship to you by international express. 
The Advantages Of CNC Milling Services
CNC milling can be done on a wide array of materials. Custom milled parts can be made from almost any engineering plastic and metal.
Milling parts have high dimensional stability, high repeatability, high precision machining, and excellent electrical conductivity.
CNC milled parts can be machined in multiple processes after one set-up; 5-axis CNC milling can be machined on multiple surfaces at one time.
Milling is the most versatile CNC machining process, with high adaptability and flexibility of parts machining.
CNC milling service can machine parts with complex shapes or strict tolerance requirements, such as mold parts, housing parts, etc.
Milling CNC machine has a high level of automation and production efficiency and can run 24/7 continuously, which is conducive to the automation of production management.
Applications of CNC Milled Parts
CNC milling can be used to create a wide variety of parts and products. Some of the more common applications include:
√ Medical – CNC milling is used in creating parts used in the health and medical sectors such as orthopedic implants and surgical instruments.
√ Electronics – electronics hardware, housings, metal slats, panels, engraved parts, and other electronic parts are made using a milling machine.
√ Military – The 3-axis and 5-axis machines are used in producing CNC milled parts for military aircraft, vehicles, weapons, and submarines.
√ Automotive – Car custom parts including gearboxes, turbochargers, and interior panels require CNC milled parts.
√ Aerospace – Aircraft components require CNC milling service to create parts for plane engines, transmissions, hydraulic manifolds, landing gear, electrical connectors, housings, and more.
√ Food – It designs components used in food processing machines, blenders, grinders, crushing machines, cleaning devices, and more.
√ Machine Tool – The tooling industry needs parts such as fasteners, fittings, shafts, hydraulic and mechanical components that are designed using CNC milling technologies.
What is CNC Milling?
CNC milling is a CNC machining process that used controlling computers and rotating multipoint cutting tools to quickly remove the material from the workpiece and create custom CNC parts.
It's a subtractive manufacturing method in which the workpiece is held rigid on a fixture and mounted on a worktable as the material is removed with a rotating cutting tool. The milling cutting tool can move up several axes, up to 5 axes.
How does CNC milling work?
Unlike additive manufacturing, CNC milling is a type of machining that uses computer numerical control (CNC) technology to remove excess material from a workpiece. It begins with a CAD file. This file is used to create a toolpath, which is a set of instructions that tells the CNC lathes how to move the cutting tools across the workpiece.
The cutting tools, typically a rotating tool or end mill, move along different axes to create holes, slots, and other shapes in the workpiece. This type of machining is well suited for creating even, precise shapes in metal and other materials.
What types of cutting tools for milling?
There are many different types of cutting tools that can be used with CNC mills. The most common type is the end mill. End mills are available in a variety of sizes and shapes and can be used for a variety of machining operations. Other common tools include ball nose end mills, chamfer end mills, and dovetail end mills.
What finishing options are used in CNC milling?
The finish on CNC milled parts can provide a protective and decorative surface that is both wear and corrosion resistance and aesthetically pleasing. There are a number of finishing options available for CNC mills, and the best option will depend on the specific project requirements. Some common surface finishes include Polishing, Anodizing, Powder Coating, Plating like electroless nickel plating, Sandblasting and etc.
Want to take our CNC milling capabilities throughout the manufacturing process? WayKen offers fast and cost-effective CNC turning and milling solutions. We will deliver high-quality components for your milling project according to your specifications and within a quick turnaround time.