Need some custom plastic prototypes and end-use production parts? We offer CNC plastic machining services and manufacture high-quality machined plastic parts for global customers at competitive prices.
Plastic Machining and Manufacturing Services
CNC plastic machining comes in handy when non-printable materials are needed. With this technology, we can not only make plastic concept models and precise functional components but also provide complete solutions for the production needs of low-volume machining.
We are able to manufacture high-quality CNC plastic machined parts from over 30 different materials, use processes such as 5-axis CNC machining methods to create high-performance precision machining of engineering plastics. Our knowledge of plastic materials allows us to customize your CNC plastic parts according to your application's requirements.
Why Choose CNC Plastic Machining at WayKen
WayKen is ISO9001 certified. Our advanced quality control processes meet and outperform industry standards. We have a well-equipped quality assurance department and a quality management system.
We have well-equipped CNC plastic machines to handle any type of project. Our comprehensive machining capabilities are well-suited for CNC plastic projects. The machines go beyond traditional setups and machining practices and ensure that we can perform complex machining tasks on time.
We can produce plastic parts from all types of plastic. Extensive knowledge of the properties of different plastics, with lots of testing and experimentation.
Our team will design precision plastic components that are custom-machined to your specifications.
Plastic Materials We Use To Machined Plastic Parts
WayKen's state-of-the-art plastics machine shop can carry out services, including milling, turning, drilling, thread cutting. We are capable of creating high-performance plastics of various materials in sheets, round rods, and more. Some of the plastic materials we use at WayKen include.
ABS – (Natural / Black / Flame Retardant)
PC / Polycarbonate – (Clear / Black)
ABS / PC Blend
PMMA / Acrylic – (Clear / Black)
PA / Nylon – (Natural / Black / 30%GF)
PP / Polypropylene – (Natural / Black / 20% GF)
POM / Acetal / Delrin – (Black / White)
PEI / Ultem
PVC
HDPE
PPS
PBT
PEEK
Teflon
Bakelite Resin
Epoxy Tooling Board
Advantages of CNC Plastic Machining
Our experience in plastic part design and machining allows us to recognize the specific requirements of various industries and the ability to take on any plastic machining challenge. Equipped with state-of-the-art CNC machining equipment, our team of experts is capable of performing many different types of machining processes to execute the best manufacturing plan for your plastic parts.
They are Precise
CNC plastic machining offers a level of precision that is not available with injection molding or 3D printing. Machined plastic parts are also free from 3D printer layer lines and seams from injection molding parting lines which alter the appearance of the final part.
We Don't Need a Mold
During prototype or low-volume production, we don't require molds with plastic machining. This process allows the designers to create parts without molds, unlike other methods. The process is computer-controlled and only requires a CAD file with the design.
Parts are Adaptable
Parts can be machined directly from plastic sheet or plastic rod, so it's easy for the engineering team to make modifications to the design during the production phase with no need to make any new tooling, and there is little cost involved in upgrading the parts.
Faster Turnaround Time
CNC machines are computer controlled and can be kept running 24/7 for optimum efficiency, quality, and process control throughout the production process, from programming to machining to finishing.
Broader Range of Materials
A variety of engineering-grade plastics are common structural materials for machined parts and products due to their excellent properties, including superior strength-to-weight ratios, excellent insulation properties, greater corrosion, chemical and wear resistance, ability to withstand high temperatures, and more.
Tips for Machining CNC Plastic Parts
Part Setup
When you set up your CNC plastic blocks, be sure to remember. Plastic isn't metal. You can easily leave a large mark on the surface if you clamp the blank with too much force. Actually, if you apply too much force, the part will probably just crack.
Cutting Tools
Choosing the best cutting tools for plastic parts is a complex job. The reason for that is that plastic as well as composite materials have a very variable composition. Some plastics are strengthened with hard carbide particles or have some additives that enhance flexibility, thermal resistance, or some other parameter. All of that changes the way a plastic reacts to machining. So, depending on the characteristics of the different plastics, you should select the right cut tool for the machined plastic part.
Cutting Process
Let's look at the choice for plastic cutting processes by using the example of the CNC Milling Plastic case. The main issue that you have to look out for is excessive friction and plastic deformation of the part. To avoid these issues, always keep the cutters sharp in the cutting process. In cases, when the material you use isn't rigid enough, freeze it. However, You should be careful because plastic becomes hard and brittle under low temperatures.
Cutting Parameters
In order to prevent the chip from melting into the CNC plastic part, you'll need to keep that tool moving and prevent it from staying in one place for too long. Remove the chip as fast as you can. So, the feeds for plastic processing must be big, aggressive even. And with bigger feed rate parameters, the spindle speeds must be fast as well. The approximate estimation is about 3 times as fast as aluminum feeds and a corresponding cutting speed.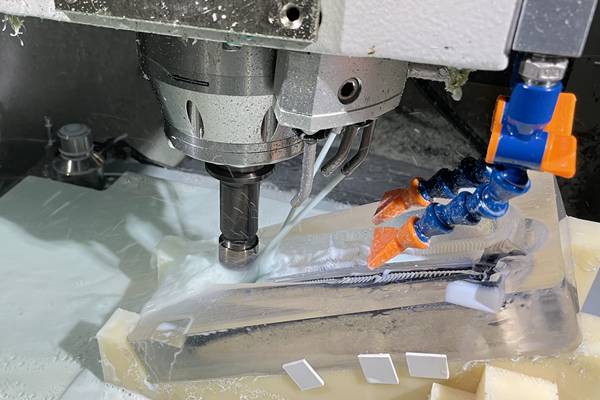 Why Choose CNC Plastic Over 3D Printing
When designing parts using plastic materials such as PVC, POM, PEI, or PEEK, they can't be printed using 3D processes. There are no reliable and affordable printing formulations of these plastics. But with plastic machining, you can design any type of plastic with ease according to the customer specifications.
3D printed specialty materials are typically more expensive and manufacturing costs are priced based on the amount of material used, which means larger parts or larger quantities of parts cost more, while CNC plastic is a more convenient and cost effective process.
3D printing processes leave a layer of marks on the plastic parts that can be difficult to remove. This is not suitable when creating concept models or functional prototypes that need a high-quality surface finish. We use milling processes to ensure that the part has a quality finish and is ready for use.
Plastic CNC machining offers greater dimensional accuracy, and 5-axis CNC milling machines can help you tackle the most difficult manufacturing challenges by providing high precision machining of more complex parts.
Applications of CNC Plastic machining
Industrial – CNC machining can be used to make plastic components such as pulleys and levers. It's more valuable in making parts to be used in custom processes. CNC plastic machining is also economically efficient during mass production.
Automotive – Automobile lighting prototyping in the automotive industry heavily relies on CNC milled plastic parts. It can be used to make outer lens cover and light guides. CNC machined parts don't have any marks left and are more effective.
 Medical – CNC machining is one of the most common methods used to make plastic parts for the healthcare industry. Some of these items include electronic medical devices components and surgical tools.
Electronics – The electronics industry relies on CNC machined plastic parts such as semiconductors. Some electronic devices are contained within machined plastic enclosures which are designed using CNC.
Consumer Products – House appliances, household goods, and toys, are commonly made using CNC machined plastic components. Apart from prototyping parts, CNC machining is useful in fabricating items such as jigs, enclosures, and fixtures.
Our experienced team of manufacturing specialists, machinists, and engineers deliver high quality CNC plastic parts within your timeline. Whether you're seeking a one-off prototype or a low-volume production run, we'll work with you to turn your design into a reality.