Businesses in the manufacturing industry continuously compete for marketable products. Only businesses that can build higher customer satisfaction by meeting customer requirements and customer expectations while their products are continuously demanded by the local market and global marketplace were recognized as top-tier manufacturers.
When entering the global marketplace, manufacturers and their products need to be legally approved for regulatory standards, and one of the requirements is to have certifications. One of these certifications for the manufacturing industry is the ISO certification. So, What is ISO and how does it play a role in manufacturing companies? Let's read on more.
What are ISO and ISO Standards in Manufacturing?
According to the ISO official site, "ISO is an independent, non-governmental international organization with a membership of 167 national standards bodies."
ISO stands for International Organization for Standardization which develops standards that are agreed upon by global experts from different industries. These International Standards are called ISO Standards. Currently, ISO already published 24338 International Standards.
ISO standards and other regulatory standards are developed to make a safe, clean, and fair world to live in. These standards include standards for promoting social responsibility, energy efficiency and conservation, reduced waste, occupational health and safety, quality control and quality assurance, etc. Many ISO standards are developed for many industries, from the process of product manufacturing up to the supply chain, delivery, other services, and organizations.
Since ISO standards are like formula that describes the best way of doing, as what ISO defines it, whenever things are not working the way it was planned, it implies that there might not be existing standards or the existing standards are not followed.
Why do Manufacturing Companies Need ISO Certified?
Actually, ISO Certified is not granted by ISO. The certification process is conducted by third-party organizations through periodical audits.
ISO certification may not be required however companies with ISO certifications build a greater image and good impression to customers. Here are some of the best reasons why manufacturing companies need ISO certifications.
Gain Competitive Edge
Since ISO standards are globally recognized, manufacturing businesses with ISO certificates have better opportunities to expand their business internationally.
If you know about the World Trade Organization (WTO), this international body has many members from other countries and is responsible for operating the trade rules and regulations globally. The rules and regulations of this international organization are based on standards produced by international organizations like the ISO.
ISO-certified businesses often get to expand their business globally for having compliance and quality products while local competition between an iso certified and a non-iso-certified business is evident.
Government and Legislation Recognition
ISO is a non-governmental organization and, adopting the ISO standards is voluntary, but some members of ISO who approve the ISO standards are members of the government in every country. These government members are also members of each country who make their national standards. Some are members who make regional standards. Some countries mandate rules and regulations for the manufacturing industries and the products of these companies that are aligned with the ISO standards and sometimes adapt to the standard.
Increase Revenue and Sales
Some manufacturers may think that gaining ISO certifications will add to the company's expenses. Other manufacturers may also think that adopting the ISO standards means stricter quality control and quality assurance which will increase the budget in their manufacturing process.
However, there are many advantages to the improvement of company revenues and sales by gaining ISO certification.
The ISO standards provide the best help to the manufacturing industry to maintain fewer errors in the manufacturing process bringing better product quality and continuous improvement in the manufacturing process. Continual improvement of the process and product quality results in cost reduction. Or, a much better effect, it can eliminate non-conforming parts and prevent manufacturing process downtime.
Cost reduction, and increased efficiency, of course, increase the revenue of every manufacturing business. And, quality products will bring higher orders resulting in higher sales.
5 Common ISO Standards for Manufacturing
24,338 international standards were developed by ISO. There are 5 common standards that are used for manufacturing that have a certification process.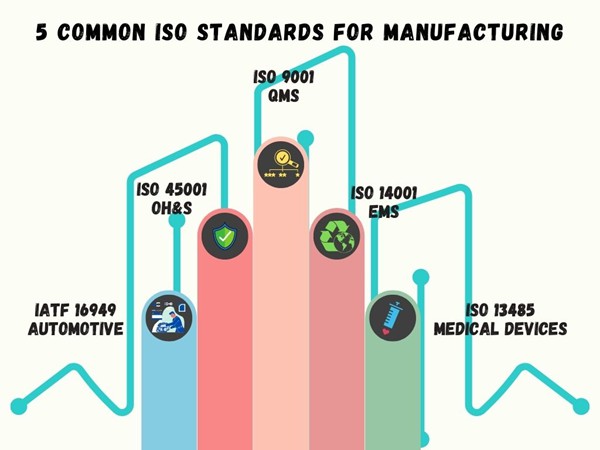 ISO 9001
ISO 9001 is an ISO standard from the ISO 9000 family. This standard is the most popular standard from the ISO 9000 family and also the most popular among different industries. ISO 9001 provides the requirements for a quality management system (QMS).
The latest version of ISO 9001 is ISO 9001:2015 Quality management systems — Requirements.
ISO 9001 discussed the 7 Quality Management Principles (QMP). These 7 QMPs are the core of the QMS since it gives a guide for continual improvement of your organization. However, these principles are not a must but only a guide for your business or organization. It still depends on the needs of your business. The 7 QMPs are listed below.
Principle 1: Customer Focus
Principle 2: Leadership
Principle 3: Engagement of People
Principle 4: Process Approach
Principle 5: Improvement
Principle 6: Evidence-based decision making
Principle 7: Relationship management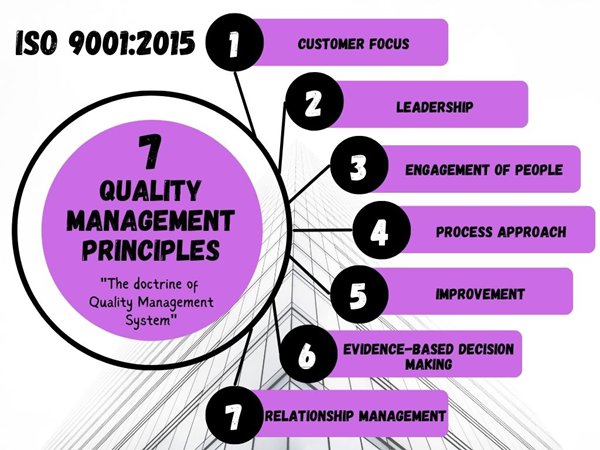 The following is the summary of the content of ISO 9001 and some basic information on how it needs to be applied by organizations. By the way, ISO 9001 will not give you the step-by-step procedure of how you'll run your business, but it will give you creative ways of what you need to do in the process of running a business.
PDCA cycle – Since International Standards promote the process approach, the Plan-Do-Check-Act Cycle must be applied to each of the processes of the organization to have consistency in meeting customer requirements wherein, all continuous improvements are applied harmoniously to work towards achieving effectiveness and efficiency in the organization's performance. This shall be presented through evaluated data and information. Integration of the processes is one of the main points of ISO 9001.
Risk-based thinking – From ISO 9001:2008 to ISO 9001:2015 transition, risk-based thinking is one of the new terms that is included in this revision. Risk-based thinking is an advanced preventive action. For every problem encountered, risks and opportunities both need action.
Strengths, weaknesses, threats, and opportunities are analyzed in every element of the organization to promote continuous improvement. Root cause analysis of non-conformities and corrective actions must be implemented while the effectiveness is continuously monitored.
Some companies who prepare to be ISO 9001:2015 certified shall have documents or procedures presenting that they practice risk-based thinking. One of these is the Failure Modes and Effects Analysis (FMEA).
Quality standards, inspection, and quality control – dimensional and functional specifications from the customer requirements were achieved by establishing quality standards and procedures for QC and inspection.
Continual improvement – Continual improvement must be prioritized by top management.
Documentation – Necessary processes, procedures, work instructions, forms, and checksheets shall be properly documented.
Most industries are utilizing ISO 9001 however some critical and complex products such as medical devices, automotive, etc. have a separate regulatory standard that is usually mandated.
ISO 13485
ISO 13485:2016 Medical devices — Quality management systems — Requirements for regulatory purposes. This standard is also about a quality management system almost the same as ISO 9001, however medical device production needs to be compliant with imposed regulations since most medical devices need a CE mark.
IATF 16949:2016
ISO/TS 16949:2009 Quality management systems — Particular requirements for the application of ISO 9001:2008 for automotive production and relevant service part organization are currently changed to IATF 16949:2016. This is a global standard mandated for the automotive industry that is almost the same as ISO 9001. Automotive products are one of those complex products that apply this regulatory standard.
ISO 14001
From the family of environmental management standards, ISO 14001 is ISO 14001:2015 Environmental management systems – Requirements for guidance use (EMS), which focuses to help an organization have a systematic approach to managing environmental issues while integrating them into the organization's processes.
ISO 14001 provides legal compliance with imposed government regulations for industrial businesses while businesses who incorporate this standard into their processes get benefits such as reduced waste, air pollution, water, and climate change mitigation. In terms of the energy management system, there is a separate standard called ISO 50001. This standard is also one of the regulatory standards.
ISO 14001 also contributes to sustainable development by using life cycle perspectives for the manufactured products.
The title of the clauses of ISO 14001 is also the same as ISO 9001, but of course, the contents are different. However, ISO 14001 has 10 clauses while 1SO 9001 has 11 because performance evaluation is not included in ISO 14001. Both standards apply the framework of PDCA.
ISO 45001
The current version of this standard is ISO 45001:2008 Occupational health and safety management system — Requirements with guidance for use (OH&S). Occupational health and safety management is regulatory just like the EMS. ISO 45001 is a standard that can help protect the health and safety of any employees, and all other personnel that enters the premises of an organization. Risks of accidents, hazard, and illness when an organization adopt this standard in their process.
Except for ISO, What Other Certifications are Commonly Needed for Manufacturing?
CE Mark/UKCA Mark – This certification implies that products with this certification are safe to use. Products sold in Europe and UK need this certification.
RoHS – Products and other materials used in manufacturing must be RoHS compliant.
UL Certification – Household products and usually electronic parts of the appliances need a UL mark.
What are the Benefits of ISO Certification?
Below are the main benefits of ISO-certified organizations, both for manufacturers and customers.
For Manufacturers:
Achieve customer satisfaction & Attract new customers
One principle of ISO standard is customer focus, therefore, each process of an organization is integrated into customer requirements, with this, an ISO-certified organization will highly be recommended by its satisfied customers.
Since ISO is internationally known, ISO certification serves as a catchy business strategy for companies to win prospective customers.
Decrease Risks
ISO Standards persuade organizations to maintain the effectiveness and efficiency of the quality management system, as well as to continuously improve the processes in an organization. With this, risk factors are determined and any problems that may occur in the future are already prevented.
Make profits through cost-saving improved processes, organizational efficiency, and enhanced productivity.
ISO standards suggest improvement of processes and determining numerous factors that may result in future problems which will reduce the no. of non-conforming output in production, and delivered products to customers. Waste reduction means additional profits. The improved processes will also speed up the processes as well as the delivery, also the no, of total manpower needed might as well be reduced. Saving time and less manpower means additional cost savings for a company.
Enhance efficiency
The efficiency of QMS is closely related to an efficient workforce. ISO standards promote the safety and importance of manpower which makes employees highly motivated, productive, and efficient in their role in an organization. An ISO-certified organization also means highly competent employees work to deliver quality products.
For Customers:
Assurance for quality products.
Customers are assured to purchase safe and quality products from ISO-certified organizations. Customers are also assured that the competent ISO-certified organization not only focuses to produce goods but also to contribute in saving the environment and energy, and protecting the labor rights of employees.
Better product experience.
Since ISO-certified organization practices continuous improvements, therefore the products will continuously improve in time to provide a better experience and consistent satisfaction to customers.
Good partnership.
ISO standards promote better communication and customer focus relationships. Therefore customers of ISO organizations are assured to openly communicate their requests and requirements to manufacturers.
Get Services From Certificated Manufacturer
ISO (International Organization for Standardization) is encouraging businesses to ensure quality in all the processes with systematic plans and objectives to address customer requirements while preventing and reducing overall errors and risks in an organization.
ISO certification is voluntary and may not be a requirement. However, an ISO-certified organization still manifests excellence and credibility over a non-ISO-certified organization. Also, some local regulations imposed by the government on businesses are aligned to ISO standards.
WayKen, as an ISO9001:2015 certificated prototype manufacturer, our services include product design feasibility analysis, product manufacturability analysis, and assisting the innovation team in product development and low volume production.
The core of our prototype development service is speed. We provide quick quotations and start project cooperation fast. Meanwhile, we are committed to guaranteeing innovative and quality services along with competitive prices. If you are looking for a prototype company to achieve your design, don't hesitate to contact us.
What is ISO manufacturing?
ISO in manufacturing is the key to a successful management system and customer satisfaction.
What is the latest ISO standard?
ISO releases the latest update on the ISO standard that can be found on their site. As per checking, the latest standard of ISO, published last February 2022, is the ISO/IEC 27002:2022 Information security, cybersecurity, and privacy protection — Information security controls.
Why your rapid prototype supplier should be ISO certified?
Like other businesses for manufacturing, rapid prototype suppliers shall also need to be ISO certified to ensure the quality of the produced products, and also to be as competitive as the other ISO-certified manufacturers.