Aluminium Housing for Deodorants in 5 Different Colors
Ika launched accessible and innovative deodorants successfully with the help of comprehensive machining capabilities at WayKen.
Ika is a Canadian company that designs, manufactures, and distributes 100% natural deodorants in refillable and shiny aluminum containers. Ika approached WayKen, hoping to find a stable and reliable supplier to manufacture the deodorant housing. They would like to start from a prototype sample first and then proceed to low-volume production of 1000 units if the quality is to their liking.
Process: CNC turning, CNC milling, knurling, sandblasting, anodizing, laser etching
Material: 6063 aluminum alloy
Quantity: 1000 units
Lead time: 25 days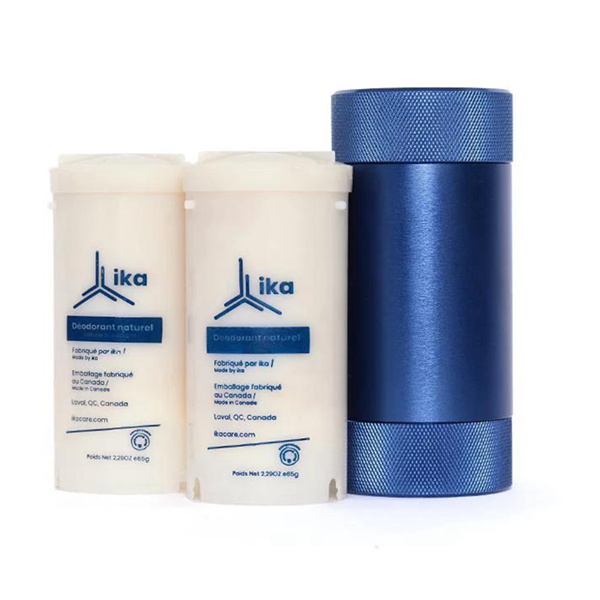 The ika deodorant comes in a durable aluminum container (offered in different colors) and contains only natural ingredients, free of parabens and other chemicals. The deodorant housing requires 5 different colors: dark blue, sky blue, gun metal gray, gold rose and coral. The colors need to be a perfect match with the color sample and stable in the future.The surface finish of the product needs to be bead blasted prior to color anodizing. They have made the housings in Taiwan before, but the quality and price are not very satisfying.
Ika was founded back in 2017 and its products have been sold throughout Northern America and around the world potentially. Alex and Martin are the founders of ika products. They started the adventure a few years ago. Alex was especially shocked by the environmental impact of deodorant consumption, while Martin found that products good for health were not very accessible, either offered exclusively in specialized stores or at exorbitant prices. The union of their insights and their visions made possible the creation of ika.
Challenges of the Project & WayKen's Solutions
There are two main challenges with this project: one lies in the CNC machining process and the other is that the color of the anodizing needs to match the color samples exactly.
Snaps at Two Ends are Easy to Deform during Machining
One of the parts has six relatively small snaps at one end for fitting into a cap. Such features are more prone to deformation, as the walls are thin and small. After talking to Alex, we know that the structural design could not be modified, so we have to select the right end tool, fully simulate the machining route, and choose the most suitable route during machining, with a high-precision CNC machine. In the end, we were able to produce satisfactory housing. All parts were assembled and fit very well.
In addition, as the product will be rotated repeatedly during use, we need to ensure that the rotation between different parts is smooth so that it does not affect proper functioning. Wayken provided DFM analysis prior to production, which resulted in a very good assembly.
Multiple Clamping on 3 Different Machines
The main housing requires three different machines and therefore requires three set-ups. As shown in the above picture, the main part needs to be CNC turned, and the structure in the yellow circle needs to be realized on a 3-axis milling machine, while the slots in the red circle need to be made on a 4-axis machine. This increases the machining time and cost. With the help of WayKen engineers, we optimize the machining solution as much as possible within the limited budget and reduce the production time in order to save costs.
Anodized in 5 Colors
As this product will be sold to end customers, meaning that the exterior surface of the housing is visible to the users, it is required that the parts should not have any scratches, burrs, or other damages after anodizing. In addition, Alex sent 5 color samples when he placed the order and he asked us to anodize exactly the five colors to match the samples as closely as possible. This can be very challenging for the anodizing process.
We all know that there can be color differences between different batches of anodizing. Even if it's the same batch, if the parts go into different anodizing baths, there may be a difference in color as well. After a few attempts, we managed to match the color samples well. We also made two extra sets and used them as color samples so that we can use these samples and match the colors in future productions.
Alex was pleased with the final products. "I am happy with the anodizing colors. Awesome job! Thank you for machining the parts so well and matching the colors perfectly. I am excited to bring them to the market and see what color people like the most." Alex commented.
With comprehensive manufacturing capabilities and a professional team, WayKen is your ideal supplier that provides a one-stop shop from prototype to production. As an ISO 9001-certified manufacturer, we specialize in rapid prototyping and low-volume manufacturing for plastic and metal parts. It is exciting to work with companies like Ika that contribute to protecting the environment. We welcome more and more enterprises to contact us for projects like this. If you want to learn more about our CNC machining capabilities, check out our website and explore projects in more detail.