---
Posted on June.3th, 2019, | By WayKen Rapid Manufacturing
If you are a bicycle enthusiast there inevitably comes a time when you want to upgrade your bike and make it suit your needs perfectly. The decision to customize a bicycle is a serious one because it ensures a lot of intellectual and physical Labour on each Stange of the Development: from creating the idea of the part and up to making aluminum prototype parts. It is easy to stray from the things you have to do and abandon the project altogether so here is a short guide to keeping you in line with what you must do to successfully customize your bike.
Finding the Solution
You are lucky if you have already thought of a good way to modify the bike but a lot of people just want to do something cool. For those who have not decided yet: there are a few different customization areas, you can work on.
Outward look part modification. You basically substitute an existing part with the part that looks better. This is the easiest way to make a custom part for the bicycle since you don't actually have to modify the existing design. You just have to create a part that looks cool and fits the existing fixtures. The parts that are modified this way are usually: seats, handlebars, pedals, bottle cages, and racks.
Outward look bike modification. This type of customizing involves using existing parts of the bicycle and mounting additional things on them, like led lights or embossing a pattern on the frame and so on. This is a little bit harder since you'll have to estimate the existing geometry and take into account that some of the modifications you make may interfere with the performance of the original parts.
Performance parts. This is the most complex way of bike modification that will probably require you to manufacture or order multiple custom aluminum parts from prototype makers and actually check their performance on your bike. However, as a result, not only will your bicycle look better with new gleaming custom prototypes but it'll be faster or will ride smoother.
Making a Sketch
Let's assume you are an enthusiast but you haven't got a degree in engineering and are not knowledgeable about engineering drawings, standards, and so on. How do you explain what you want? My suggestion is to make a sketch. There is a whole bunch of free sketching software that you can use to draw your custom aluminum prototype part. Remember, in order to get what you want, make as detailed a sketch as possible. Here is a checklist for good sketches.
Draw the object from all sides
Indicate maximum dimensions and minimum ones
Indicate, which surfaces are important
Specify the working conditions, for example, loads or the weight the part should carry
Specify where the part will fit in the bike
Specify existing fixtures the part will be attached to
If you want a special aluminum alloy, write it down
Point out which surfaces should be painted or polished
Give some dimensions of the other parts of the bicycle that are relevant
Once your sketch is done, it's time to make it an actual engineering drawing
Modeling and Drawing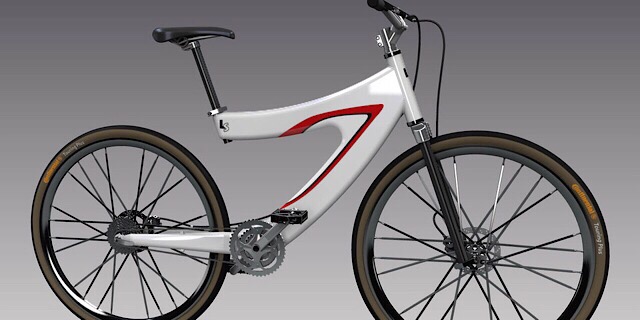 In order to manufacture your aluminum prototype, you'll have to turn the sketch into an actual CAD model with a design drawing. The majority of professional engineering programs are commercial and you will have to purchase a license for up to 2,000$ per year. Most prototype manufacturing services have them since they need CAD models for machining but if you are intent on making the whole design yourself, there are some free options possible for you, the best of them being Autodesk Inventor Fusion 360. It's a freely distributed software for CAD|CAM|CAE support where you can easily make a 3D-model, and then convert it into an actual engineering drawing. However, be wary that you should use ISO or ASME standards when you decide on the dimensions. For example, the bolts and nuts are all standard and require corresponding holes in the part.
Verification
Verification is essential for performance parts, especially for the bicycle frame. What verification means is using computed engineering analysis to establish whether the part will be strong and rigid enough to withstand the required loads and not deform more than necessary. It is also often called finite element analysis since the part is separated into a lot of pieces, each of them is computed separately and the picture is combined. You need a lot of knowledge in physics to correctly model the part, but if you do, some free software is available for that, for example, the same Fusion 360.
Prototyping
The majority of bicycle parts nowadays are made of aluminum alloys, that is, the ones you can actually modify because carbon parts are impossible for small-batch manufacturers. Aluminum prototyping is the hardest stage in custom bike parts development because it requires professional specialized equipment, namely CNC aluminum machine tools. The reason for that is that bicycle parts are precision machined parts with very smooth surface finishes and close tolerances. So, if you are setting up a shop and are going to seriously get into this business, be wary that aluminum machining cost may be very high if you have to purchase equipment. If you are just a hobbyist,  contact some aluminum rapid prototyping shop to get your parts done fast and with the best precision. For example, aluminum machining in China is very cheap and their turnaround time is as short as possible.
CNC milling is usually the way for aluminum parts manufacturing at prototyping stages. The aluminium CNC service machinist takes a blank stock and installs it into the CNC machine tool. He chooses the cutters and writes an NC program that will move the cutters according to the desired trajectory. Then, the blank is machined and it either looks like the final part or needs to be reset. That's how custom aluminum machining of custom aluminum prototypes is done generally. Bicycle parts are no different. Although the whole process sounds simple, it requires a lot of knowledge in manufacturing engineering, machining, and a whole lot of experience before you can successfully produce custom parts of high quality. That's why ordering parts if you are new to that, is the preferable choice.
How We Supply You With An Aluminum Prototype
WayKen is a leading rapid prototype company in china and has rich experience with aluminum prototype machining. Usually, we could control the tolerance at ±0.01MM.
Many prototyping techniques to choose from, such as CNC machining and rapid tooling.
ISO 9001 certified In-house Machine Shop. All of our prototypes are made with machining in mind.
High qualified CNC operators. They can use unique management and skills to manufacture quality aluminium prototype parts.
Only use High Quality and certified aluminum materials for prototyping
Fast global delivery is always available.
We can do from a prototype to low volume production. If you are interested in, it will be an honor to show our company to you. Understand more, you can easily submit CAD files there today for a free quotation.